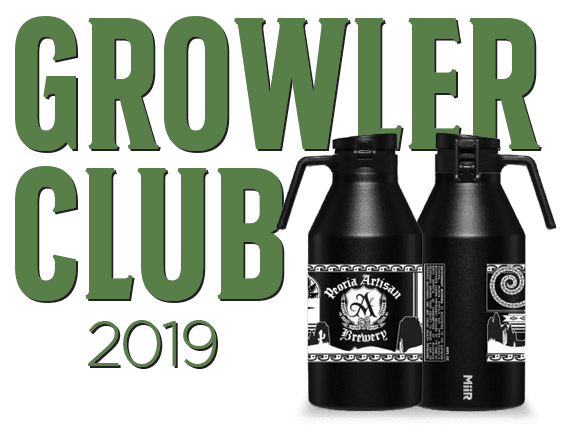 2019 Growler Club is on sale NOW!
Memberships into our Growler Club lasts for  all of the year.  The unique, one-of-a-kind growler is your "membership card" into this exclusive club.  Typical membership benefits are as follows:
A 64 oz capacity Unique Growler with a One-of-a-Kind design.
Your initial membership cost includes a fill of PAB Beer in your beautiful new Growler.  You will receive a card allowing you to either fill your growler when you pick it up, or at a later time.
You will receive a 20% discount on all subsequent fills of your growler (and 32oz cans) for the entire year.
Select access to limited or rare beers.  For instance, our very first bottle release this year was offered to Growler Club Members first.
Select access to our Brewer's Dinners and other specials.  For instance, we offer pairing dinners to Growler Club Members first.  We have also discounted pairing dinners to Growler Club Members ($5 off, etc).
Discounts to special events and tastings.
The number of memberships are always limited, in 2019 we are offering a total of 96 memberships.  Once all the growlers are sold, additional memberships will not be available until the following year.  Member Growlers must be picked-up and are not available for shipping.
Should you have any questions, please contact Matt via email: matt@peoriaartisanbrewing.com
Cheers!