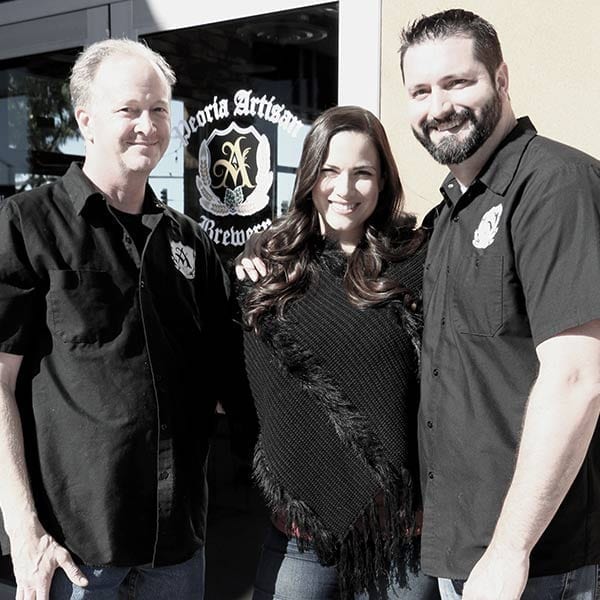 We brew hand-crafted ales and lagers at our 5 BBL Brewery and Gastropub in North Peoria. Enjoy our house brewed fermented creations and the fresh, scratch, New American cuisine of Chef Michael Mahalick.  Our menus and live updated beer list are available here.
We are very proud of our small brewery and the dedication we have to hand-crafting our brews.  We aim to provide various options so that any craft beer drinker will find a hand-crafted brew that they enjoy.  Likewise, the environment and atmosphere of our brewery is as equally important along with our food offerings.  Classic, simple, creative and loving – that's all we want to do.
Savannah Marie IPA
Savannah Marie IPA (7.5% ABV, 66 IBU, 8.3 SRM) is our flagship brew and very near and dear to our hearts.  Cascade, Simcoe and Citra dry hop ensures an amazing hop aroma.  Pours dark golden with a white head of moderate retention.
Third Sabbath Belgian Tripel
Third Sabbath Belgian Tripel
Third Sabbath (9.0% ABV, 32 IBU, 5.7 SRM) is a Gold Medal Winner of the 4th Annual Best Strong Beer as part of the yearly Arizona Strong Beer Festival. Incredibly smooth considering the high alcohol content and is well balanced.
Haboob Black IPA
Haboob (6.1% ABV, 78 IBU, 29.7 SRM) is a tribute to the late summer months in central Arizona fondly referred to as "Monsoon Season" when Haboobs rip through the valley with a dramatic display of Mother Nature's power. A hint of chocolate on the finish rounds out this unique dark brew of bitter hop and malty goodness.
Ghost Scorpion White IPA
Ghost Scorpion White IPA is a summer seasonal brew intended to complement the hot AZ summers in The Valley of the Sun. Generously hopped with Citra and Centennial this beer has a smooth mouthfeel and citrus hop profile.
JOIN OUR VIP CLUB!
Receive text messages of upcoming events, beer releases, live music and more…